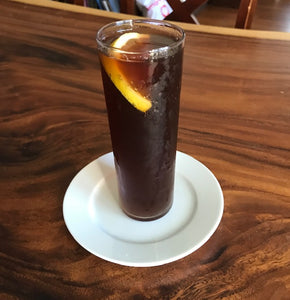 Pondicherry Dry Goods
Assam Black Tea blend
Regular price
$12.00
$0.00
Blended for flavor and strength

Ingredients:
TGFOP black tea and CTC black tea

Caffeine: Medium
Our Assam Black tea is perfectly blended to make great iced tea. Brew fresh and chill or add ice. Tastes delicious sweetened. Try adding a squeeze of lemon for a citrusy tang!

A 100 gram bag makes about 2.5 gallons of iced tea approximately.
Please note that this tea is grown in the same small farms with the same care, but has handmade and machine processed components.
Refreshing and invigorating
Suggested: 4 gm per pint of boiling water

Steeping time 2 minutes. More if you prefer a strong brew
For best results, cover while brewing
You may sweeten it to taste, and add a little cold milk

Best time of day: Daytime
Store in a cool dry place
Transfer to an airtight container after opening to maintain freshness & fragrance
Best if used within 12 months of packing
Benefits
Black tea is invigorating and energizing, and is a great morning and midday beverage. Tea supports the vascular system and improves circulation. It is believed to strengthen the immune system and enhance concentration.*
Available packaged or in bulk (please email us)
Country of Origin: India
*Please note that the above statements have not been verified or endorsed by the FDA
---